Daryl Stuermer
Duo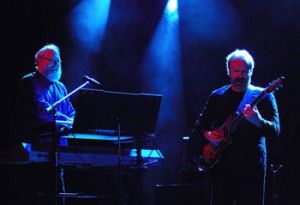 The inspiration for the duo came from Daryl's Godin LGXT "electracoustic" guitar; an incredibly versatile instrument that can shift from an electric to acoustic sound with the flip of a switch. Along with his classically trained Russian keyboardist Kostia, Daryl performs his own instrumental compositions as well as some of his favorite Genesis songs.
The Duo configuration is an opportunity that allows for an intimate up-close encounter with two virtuoso performers. When appropriate Daryl will have an informal "Q & A" with the audience.
Duo Performance Clinics
This Duo format also lends itself to educational performance clinics in performing arts schools and music stores.
Audio Sample