Daryl Stuermer
Symphony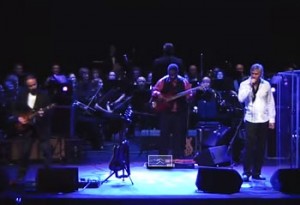 World renowned virtuoso guitarist Daryl Stuermer creates a truly unforgettable evening with his newest project, the Daryl Stuermer of Genesis – Symphony Concert.
With his core band featuring a dynamic vocalist, Daryl Stuermer joins with orchestras around the world to reinvent the Genesis concert experience with his unique renditions of Genesis hits and classics including "Throwing it All Away" – "Invisible Touch" – "I Can't Dance" – "Turn It On Again" and "Something Happened on the Way to Heaven," Phil Collins' 1989 Grammy winning Billboard #4 single, co-written by Daryl.
Bursting onto the international music scene in 1975, Daryl toured Europe with critically acclaimed jazz violinist Jean-Luc Ponty and went on to record three innovative albums with him. Since becoming lead guitarist and a touring member of the super-group Genesis in 1978, Daryl Stuermer has toured the world to sold-out crowds with both Genesis and as an original member of Phil Collins band. Stuermer has created the signature lead guitar sound of many Phil Collins mega hits including "In the Air Tonight" and "Easy Lover".
Today Daryl Stuermer continues to play music with his five piece group, The Daryl Stuermer Band, which truly showcases his unique blend of rock and jazz guitar and continues to expand on over 30 years of musical accomplishments. Between world tours and hit recordings, Daryl Stuermer has released eight solo albums of original music and covers his favorite Genesis tunes along the way on 2002's "Another Side of Genesis."
Incorporating Talents
The Daryl Stuermer of Genesis Symphony Concert is designed to incorporate the talents of the following musicians:
Woodwinds
2 Flutes (1 doubles on piccolo)
2 Oboes
2 Clarinets
2 Bassoons
Brass
4 French Horn
3 Trumpets
3 Trombone
1 Tuba
Harp
Strings [by stand]
5 1st violins [min of 4 players]
5 2nd violins [min of 4 players]
4 violas [min of 3 players]
3 cellos [min of 2 players]
2 basses [min of 1 player]
Percussion
Timpani
Mallet
Auxiliary Percussion